Exo Terra Calcium Powder, 15.9oz
Exo Terra Calcium Powder, 15.9oz
Regular price
$12.99
Sale price
$11.99
Unit price
per
SALE
Coming soon
Captive reptiles and amphibians need routine calcium supplementation to balance the ratio of calcium and phosphorus in their diet. When they don't get enough calcium, reptiles can develop health problems such as neurological dysfunction, muscle tremors, and weak, deformed bones.
WARNING — This supplement DOES NOT contain vitamin D3, which is an essential vitamin for reptiles that don't have appropriate UVB lighting installed in their enclosure. If your reptile does not have UVB lighting, you need a calcium powder that contains a moderate to high amount of vitamin D3, such as Exo Terra Calcium Powder + D3. 
For optimal nutrition, it's best practice to occasionally use a calcium or multivitamin supplement with low levels of vitamin D3 to "top up" your reptile's reserves, even if it has UVB lighting.
Instructions for Use:
Vegetables and Fruit
Blend 1/2 tablespoon of Exo Terra Calcium + D3 Powder Supplement with 1/2 tablespoon of Exo Terra Multi Vitamin Powder Supplement per 500g of mixed vegetables and fruits.
Insects
Thoroughly mix a 1:1 ratio of Exo Terra Calcium + D3 Powder Supplement and Exo Terra Multi Vitamin Powder Supplement in a container or bag. Add live insects. Cover and shake gently until all insects are lightly coated.
After opening, store in a cool dry, place.
Guaranteed Analysis:
Moisture (max) 12.0%
Calcium (min) 35.0%
Calcium (max) 37.0%
Salt (min) 0.06%
Salt (max) 0.07%
Potassium (min) 0.04%
Magnesium (min) 0.03%
Sulfur (min) 0.04%
Iron (min) 240 ppm
Zinc (min) 9 ppm
Manganese (min) 5 ppm
Copper (min) 2 ppm
Ingredients:
Calcium carbonate, oyster shell flour, salt, calcium sulfate, potassium chloride, ferrous fumarate, magnesium oxide, zinc oxide, manganous oxide, copper sulfate
Customer Reviews
Write a Review
Ask a Question
06/08/2021
Michelle S.

Longview, Washington
Calcium powder
This comes with the cutest little scooper. Perfect size for the suggested use. So far so good. The bugs devour it there for my beardie is getting it gut packed :) good price. Fast delivery, easy use. Thank you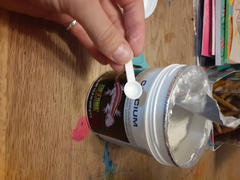 05/08/2021
Christopher P.

United States
Calcium
Haven't used yet but will tonight