Exo Terra Coconut Hide with Water Dish
Exo Terra Coconut Hide with Water Dish
Regular price
$17.99
Sale price
$10.99
Unit price
per
SALE
Coming soon
As small animals, reptiles get stressed when they don't have a place to hide out of sight. Chronic stress has negative effects for reptiles, leading to increased susceptibility to illness, decreased appetite, lethargy, and more defensive behavior. This is especially important for nocturnal and crepuscular reptiles that prefer to hide during the majority of the day. When exotic animals have places to hide nearby, they are more likely to be comfortable with being out in the open.
The Exo Terra Coconut Hide with Water Dish is a terrarium ornament that serves two essential functions for your pet: providing a comfortable place to rest, and a readily available source of fresh water! Made from food-grade resin, the water dish is easy to clean and resists bacterial accumulation. 
Customer Reviews
Write a Review
Ask a Question
08/19/2020
Alexis K.

United States
Tiny.
This item is made of good quality, so I gave it 4 stars. Just make sure you Check the dimensions because I have a baby leopard gecko and this was on the small side for him.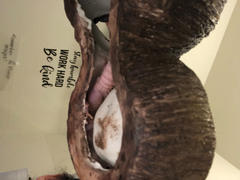 04/28/2020
Samantha A.

United States